The Huntington-Northport Oyster Reef Project is a public/private partnership between the Town of Huntington, Cornell Cooperative Extension of Suffolk County Marine Program and local Rotary Clubs. Our goals are to improve water quality, to restore habitat and to support aquaculture efforts to the benefit of bathers, boaters and baymen.
Our work continues throughout the year focused on three initiatives:
Growing spat-on-shell oyster during the summer to create a network of spawner sanctuaries in closed waters;
Cultivating sugar kelp during the winter in Town embayments to reduce excess nitrogen and other impurities, with various end-uses yet to be determined;
Collecting half-shells of clam and oyster year-round to be recycled and cured in Huntington, ultimately for use as substrate for spat-on-shell production at the CCE Marine hatchery in Southold.
All of our activities are conducted in waters under the jurisdiction of Town of Huntington Maritime Services and under permits held by CCE Marine.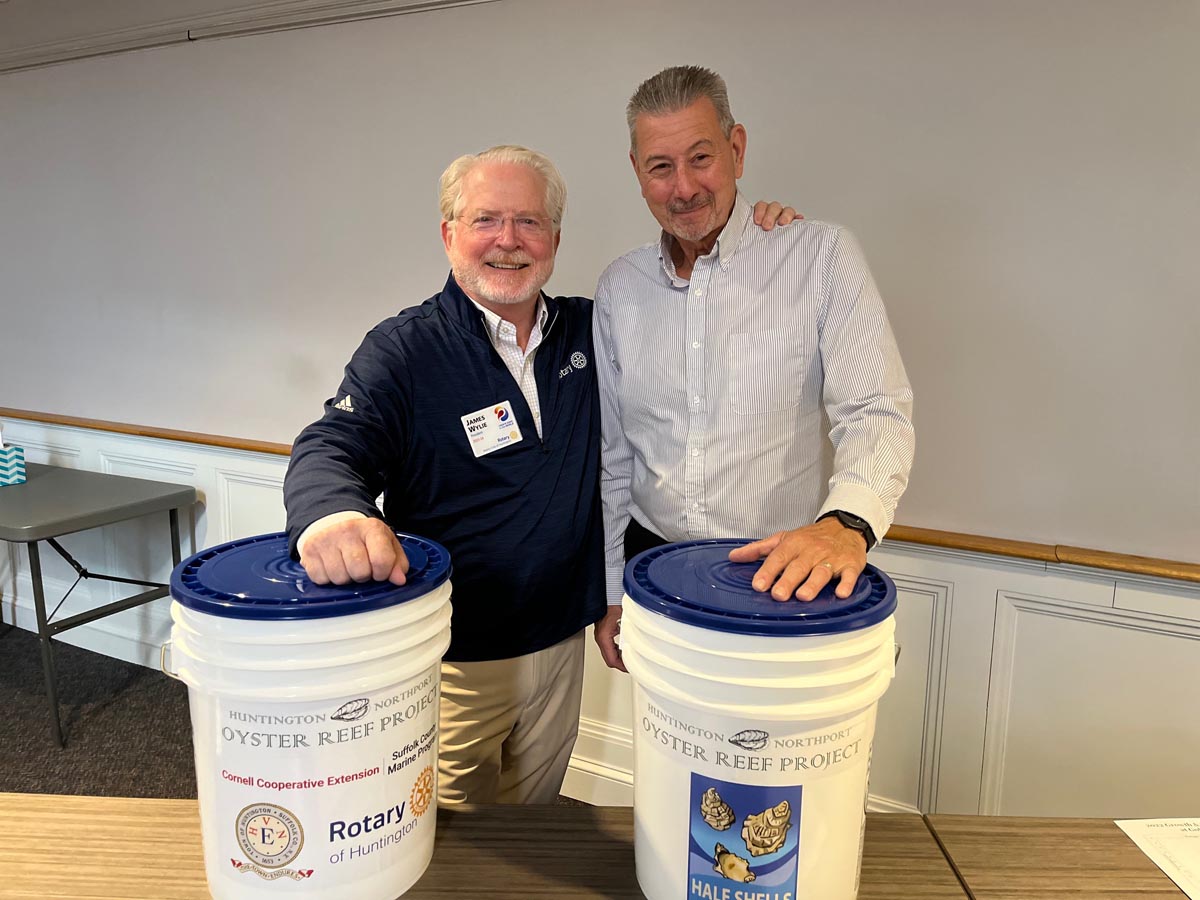 VOLUNTEERS – OYSTERS – PRESENTATIONS – SUGAR KELP – HALF-SHELLS
Hundreds of Volunteers (200+) have come to Huntington and Northport from Brooklyn, Queens, Nassau and Suffolk… and beyond. We've had visitors from Buffalo, Boston, Syracuse and Nashville join us on our Nursery Docks. We hosted a group of Rotarians from Sweden who were touring New York on a Friendship Exchange. One seasoned member mentioned this was the BEST Rotary Project he had EVER seen!
In two seasons, we've grown approximately 390,000 OYSTERS and planted over 300 cu.ft of NEW OYSTER REEF in our local embayments. Year to year survivorship rates on our Rotary Reefs have been very encouraging. Adult oysters can filter up to 50 gallons a day, so we are making a positive impact on improving our water quality and strengthening our marine ecosystem. We are planning to increase annual production of spat-on -shell oysters through modest, measured growth and plant a network of strategically located reefs in our closed waters to reduce the effects of harmful algae blooms.
We introduced the Oyster Reef Project to thousands of local residents with the Rotary Speakers Forum on the Environment at Town Hall which was carried live and rebroadcast through the Town of Huntington cable TV channel. Led by the experts at Cornell Cooperative Extension of Suffolk County, community outreach is at the heart of everything we do through the CARE Program: Community Aquaculture for Restoration and Education. We are widely available to share our knowledge of habitat restoration and our ideas to support aquaculture.
Last winter, we launched a successful Sugar Kelp pilot project, proving that Huntington waters are well suited for scaled-up production. The Town of Huntington just received permits from The Army Corps of Engineers and the New York State DEC to cultivate sugar kelp in seven locations throughout the Huntington-Northport waterbody this winter! We will plant in December and harvest in April. We anticipate drying and processing about 1,750 pounds of nutrient-rich seaweed into a shredded, powdery product. Dried kelp will be available for use as on organic soil amendment.
We started a Half-Shell Recycling Program with local partners and volunteers. In the first five months of operation, we gathered about 300 5-gal buckets, enough shells to cover our Spat-on-Shell needs for next year's oyster reefs! Our shells go directly to CCE Marine's Hatchery in Southold, where they are loaded up with tiny animals, or "spat." Demand for shells is increasing up and down the East Coast as more communities start aquaculture projects. We need to continue redirecting calcium carbonate (clam & oyster shell) from our landfills and re-introduce it into our waterbody to reduce acidity and to provide an ideal habitat for wild set oyster.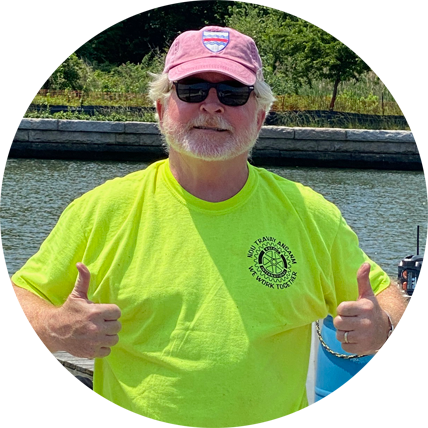 James is leading a public/private partnership between the Town of Huntington, Local Rotary Clubs, and Cornell Cooperative Extension of Suffolk County Marine Program (CCE) intended to improve water quality, restore habitat and support aquaculture efforts.
James Wylie
Project Coordinator
Huntington-Northport Oyster Reef Project
"Garrett recently described the result of the partnership with Lazy Point Farms, "We harvested hundreds of pounds of healthy kelp in late April, once it is dried and shredded, the town intends to use the kelp as organic fertilizer in its parks."
Garrett Chelius
Town of Huntington
Deputy Director of Maritime Services